Super Mario Galaxy 2 Review
In addition to playing as Mario, Luigi is also featured in the game. In certain levels in Super Mario Galaxy 2, Luigi will offer is help. For gamers who don't know the difference between Mario and Luigi, Luigi can jump much higher than Mario. There are levels in Super Mario Galaxy 2 that is solely for Luigi, whenever Luigi is spotted hanging out in a level, don't hesitate to switch to him. Besides Luigi, our favorite Nintendo dinosaur, Yoshi will be making an apperance in the game. Similar to Luigi, Yoshi is only playable on certain selected levels. Yoshi will have his own unique abilities from past Mario games. Yoshi can eat the enemies such as a bomb and use it as a weapon to destroy other enemies or a destructable shield.
Exemplary Presentation

One of the great features that makes Super Mario Galaxy 2 stand out from the rest of its imitators are the level designs. If on the first Super Mario Galaxy we're all used to going into each Galaxy and do the upside down adventure while circling a planet, the second game has Nintendo somehow polished it to make it more creative. Not only will gamers be hopping from one planet to the next, they can now switch back and forth from the 2D to 3D and playing with the gravity. For Super Mario fans that played the first Super Mario Galaxy on the Wii and Super Mario Sunshine on the Gamecube, fans can quickly notice on how the second game turned out. Each of the levels in the game are different and it adds a lot of variety into it. In other words, each of the levels in Super Mario Galaxy 2 are unique. For the world progression of Super Mario Galaxy 2, there are eight vast worlds that Mario will be exploring. The way Mario moves into each different level is similar to the classic Super Mario Games. Gamers will now have to navigate each levels side by side. With a specific amount of Power Stars in possession, Mario can progress to Bowser's Castle in each world.
New Power-Ups

There are new power ups in Super Mario Galaxy 2 that adds to the excitement and innovation in this game.. Power ups that transforms Mario into a Cloud or Spring, they are all played well in a level solely created for them. One of the unique Power Ups that you can find in Super Mario Galaxy 2 is the Cloud Mario where he can summon a Cloud and use it as a platform. For Spring Mario, he can jump so high thanks the power of the Spring that engulfed him. Another power-up that is worth noting is the Rock Mario. By transforming into a ball of rock, Rock Mario can smash things that are destructable in his way or roll around the field. The Drill power up allows Mario to dig down and go through complicated mazes, with Mario trying to find the right way out. There will be some old power ups that will make an apperance in this game; the Bee Suit and the notorious Fire Flower. The power ups that are available in the game truly helps Super Mario Galaxy 2 have the upper edge when it comes to platfrom games thanks to its innovatative and infectious gameplay.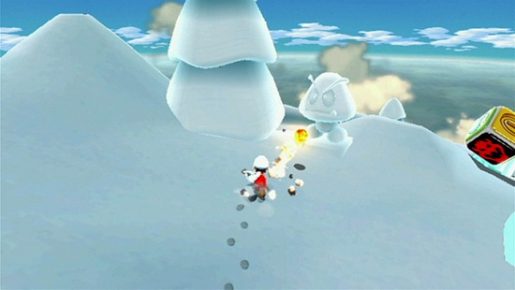 Cosmic Guide

Playing Super Mario Galaxy 2 offers a variety of challenges. Some of the levels in the game are hard but have no fear, there is a Cosmic Guide feature that allows an AI to control Mario and finish the level. Rosalina's ghost will be appearing at a certain level where she will offer the power of the Cosmic stars to guide Mario to the end. Using the Cosmic Guide will get Mario finish the level without sweating, but there's a catch. Instead of obtaining a Power Star, a Bronze Power Star will be given. If one point in time that a gamer decides to do it again, they are freely to do so and if they manage to finish the level without the help of a Cosmic Guide, a Gold Power Star will be awarded.
Mini Games & Motion Controls

Similar to the first Super Mario Galaxy, the motion controls of the Wii Remote will be used in both the levels and mini-games. An example of a mini-game that uses the Wii Remote's motion control is when racing using the bird. By pointing the Wii remote down, gamers can glide down by moving the Wii Remote down or move it side by side by moving the Wii remote left or right. There are several decent mini games in Super Mario Galaxy 2 that adds variety into it. Obtaining 1-Up can be done by playing a Dice game. Land the dice with the 1-Up faced up, and the 1-Up mushroom will appear. There is also a mini game that allows Mario to defeat certain enemies at a specific amount of time. Kill them before the time and three 1-Up Mushrooms will be acquired. There are a lot of ways to earn a 1-Up mushroom, gamers will just have to explore the vast galaxy and find mini-games that suits your needs. Who knows, instead of a 1-Up mushrooms, a Power Star will be awarded!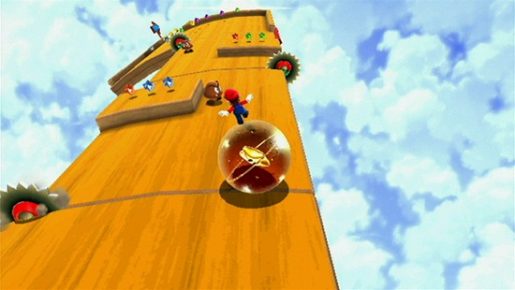 Same Concept w/ some New things

For gamers who played the first Mario Galaxy should not feel left out in the game. The concept of the game is pretty much the same. A Power Star is needed to finish a level. A certain level will have multiple Power Stars that Mario can obtain. However, every time Mario attempts to get the different Power Stars littered in the same level, the designs will somehow change. The Starbits that are acquired in the game can now be stored in a bank for safe keeping. While venturing in the vast galaxy, there will be Lumas who will be hungry for Starbits. Feed them the Starbits and they will open up a new level for Mario to explore.
NOT
NONE

I honestly did not find any flaws in Super Mario Galaxy 2. For me, it is a perfect game that everyone will love and play while never getting bored of it.
VERDICT
A game like Super Mario Galaxy 2 is the reason why Nintendo is still doing good in the industry. It is no lie that Super Mario Galaxy 2 is a perfect game by any means. The variety of levels and innovative designs and gameplay gives gamers an adventure that will be remembered for the many years to come. Fans who loved the first Super Mario Galaxy will not be disappointed with its sequel. Expect tons of replayability and unlimited adventure with Super Mario Galaxy 2. This game is a good enough reason why you should own a Nintendo Wii.
Scoring a 5 out of 5 means that the game is perfect, or at least as close to being perfect as a game can get. It might have a few small flaws but those can be overlooked and ignored considering the game's overall greatness. It will receive an Editor's Choice Award and we at JPS give a high regard to the publisher and developer of the game. Perfect games are rare, but games that are awarded this score are a must-have for any gamer!
This review was written by Mark Fajardo - who has written 550 posts on Just Push Start and is used here with permission.
Pages: 1· 2
This entry was posted by
PPNSteve
and filed under
Console Gaming
,
Reviews
,
Console
,
Wii
,
Nintendo Wii
. Tags:
5 out of 5
,
jps
,
nintendo
,
review
,
super mario galaxy 2
,
wii
.